Darts Summer league round up
B team stay up as A team relegated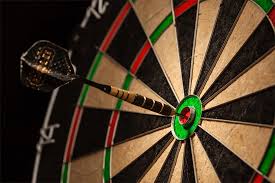 The Wednesday night summer darts league came to an end with presentation night on 25th September.
Unfortunately the A team was relegated back to division 2 to join the ladies side, whilst the B team managed to avoid the drop and will stay in division 1 for the winter season, thanks to a narrow 13-12 victory over the already doomed A-team in the final match of the season.
For league tables click here
The season was not without its triumphs though- B team Skipper Pete Tomsett won the Blind pairs competition and then picked up more silver ware on finals night with partner Matt Fagg- coming runners up in the pairs competition.
The Winter League starts on 9th October- anyone interested in joining the teams click here for more info.