Rainbow Run- 17th May
Join us for the Rainbow Run on Sunday 17th May and help support the NHS!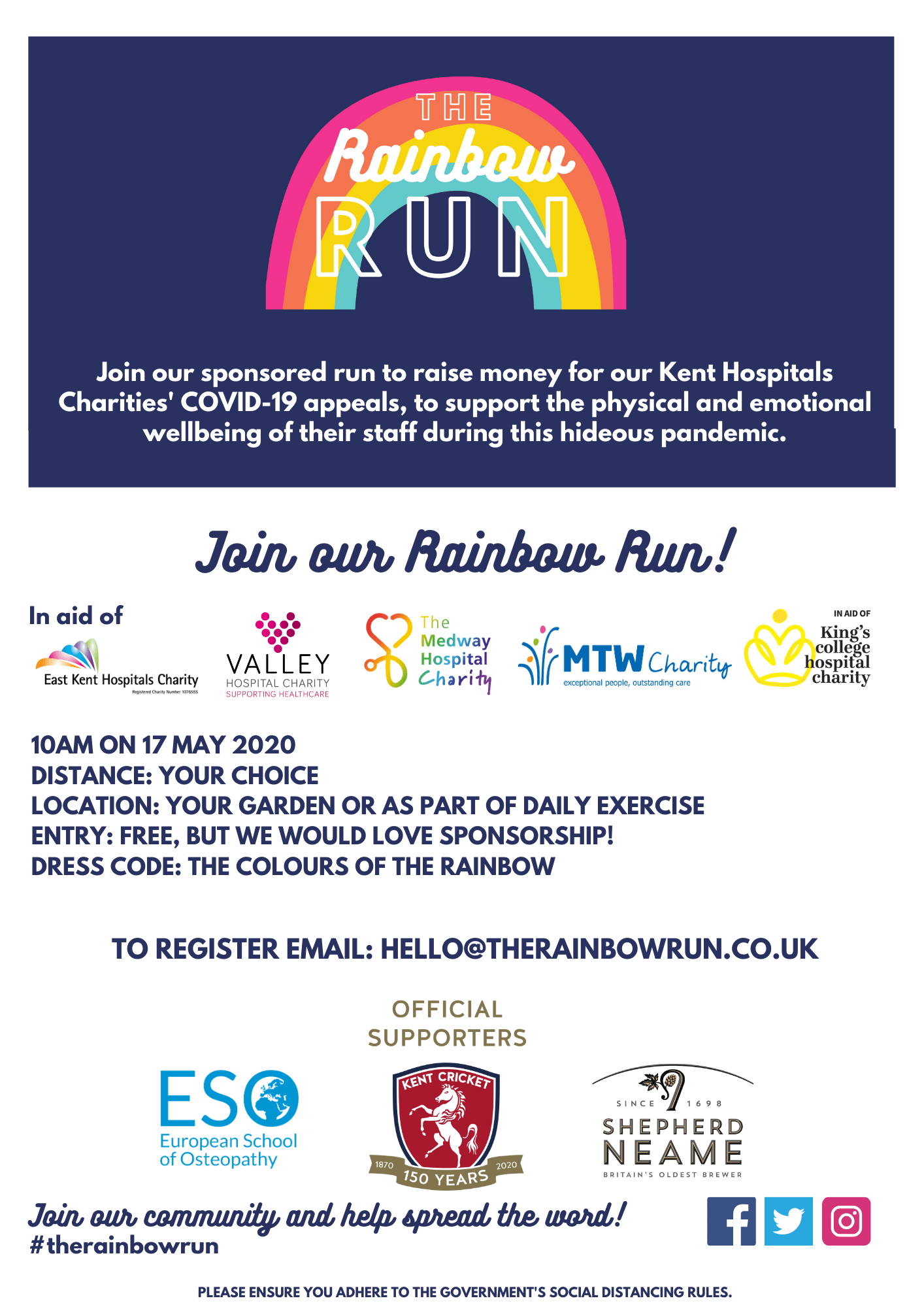 Kent Cricket has announced it will be an Official Supporter of the 'The Rainbow Run', a sponsored run to raise vital funds for Kent-based hospitals' COVID-19 appealswe'd like to invite our members to join in too on Sunday 17th May, 10am, to raise money for NHS charities along with members of other sports clubs from across Kent! 
Register to take part in The Rainbow Run now >>>
The money raised will be used to provide care packages and to support the physical and emotional well-being of NHS front line workers.
The event is open to all ages and abilities, and there is no fixed distance or minimum fundraising target for people who wish to take part. The organisers are encouraging all to get involved, however they can, by walking, running, skipping or even riding a horse.
Kent Crickets Lead Strength and Conditioning Coach, Rob Chave, will also be leading a live warm up for all participants, from 10:00 on the event day, via the event's social media pages.
Participants will be able to choose to fund raise for the following charities,  East Kent Hospitals' Charity, Valley Hospital Charity, The Medway Hospital Charity, Maidstone and Tunbridge Wells Charity and King's College Hospital Charity (including PRUH).
Kent Cricket are also offering prizes for the Club that clocks the furthest distance in 2 categories- Under and Over 13.
To help us you once registered for the run you will need to record your run using the 'Strava' app.
Visit www.strava.com
-Sign up
-Log in
-Go to the 'Explore' menu and click on 'Clubs'
-Search for Mersham Sports Club and join us
-Once approved you can click 'I'm In' for the event.
The app is only available for those over 13, if any under 13's wish to take part please contact Matt Fagg and we can record your distances separately.
To donate to the Rainbow Run JustGiving pages please see below:
Maidstone & Tunbridge Wells Charity
King's College Hospital Charity (including PRUH)
To see the full story from Kent Cricket please Click here, or for the full info regarding club involvement click here.
We hope that you are able to get involved in this fantastic initiative, and that we can support the NHS during these times.
Many Thanks- hope to see you playing your sport again soon!