Cricket Section- Christmas Update
Latest news looking ahead to the 2021 cricket season.
2020 was not the season we had hoped or planned for by any stretch of the imagination, at a time when we were hoping to build on the inspirational World-cup victory and Ashes heroics of 2019, however the eagerness and support of our cricketers, young and old, when we were allowed out of lock-down was fantastic.
We wish to thank everyone for their efforts and commitment to the club during 2020, both on and off the pitch, all the players that played and trained, and particularly the volunteers and coaches that made it  possible in the most difficult of times.
We wish you all an enjoyable and safe Christmas and look forward to seeing you in the New Year.
Please see the latest news from all our  Cricket sections below;

Indoor Training 2021
We have the following dates/times/venues booked for our indoor training programme due to start at the end of January, however with the news this week, entering Tier 4 and a more contagious strain of COVID rampant in Kent, we are unsure at this stage if these will go ahead.
Prior to Tier 4 announcements we understood that Junior Indoor training could go ahead in Tier 3, however Senior and Women's Group sessions could only go ahead if we had dropped to Tier 1.
We will of course keep you updated but please rest assured we will endeavor to provide training opportunities as soon as we are able.
| | | | | |
| --- | --- | --- | --- | --- |
| Under 11's | Tuesdays | From 26th January | 6pm-7.30pm | Norton Knatchbull School |
| Under 13's | Tuesdays | From 26th January | 7.30pm-9pm | Norton Knatchbull School |
| Under 15's | Thursdays | From 28th January | 6.15pm-7.45pm | Ashford School |
| Seniors | Thursdays | From 28th January | 6.15pm-7.45pm | Ashford School |
| Women's | Mondays | From 25th January | 6.15pm-7.45pm | Ashford School |
Outdoor training will commence after Easter including Under 9's sessions and the return of All-Stars Cricket for 5-8's.
New Club Kit 
With sponsorship deals in place, new club shirts were supposed to be given to all members at the start of 2020. Due to lock down this was postponed but we are pleased to say that we have the new club shirts which will be available for all when we commence the new season.
Huge thanks must go to club sponsors, HRGo for renewing their support of the Senior and Junior teams, Howdens for their continued support, and we welcome new sponsors Cleshar providing sponsorship for the Women and Girls development, and The Garden Guys for their assistance with grounds work and maintenance.
We will also have club caps available to purchase, whites and training kit can be purchased from the club shop.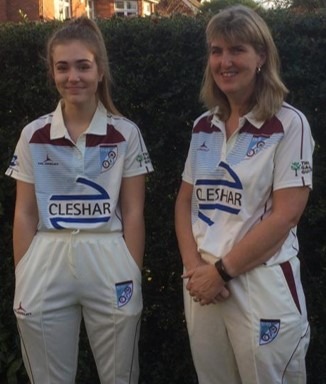 Senior Cricket
Thanks to all the senior cricketers for their efforts in the summer and their commitment to playing despite the lack of competitive cricket. Availability was generally good and at some times better than a normal year. We hope you enjoyed the matches and will continue to play in 2021.
Unfortunately the indoor league has been cancelled this year for obvious reasons.
Next year all leagues are making plans for a return to a normal season, fixtures are being collated and various changes to league formats being actioned. The KRCL have various votes and proposals taking place but we can tell you at this stage that all divisions will revert to a 40 over format in 2021.
The highlight of the season was the Rob Wilson Memorial Day, this year moved to the August bank holiday Monday, where we trialed the new 100 ball format of cricket, this produced some great matches including a tie in our first game. It was great to see so many club members coming together and enjoying the day.
Women's Cricket

Despite the restrictions the Women's team has grown in numbers and strength thanks to their dedication to training and hard work of the coaches. Like the senior teams there was no competitive matches this year but the ladies enjoyed many friendlies, thanks to all for their efforts and dedication.
Unfortunately the annual Prosecco Cricket softball tournament was a victim of the weather during cricket week but we look forward to this returning in 2021.
Welcome to new Women and Girls cricket sponsor Cleshar who's support will be vital in helping us to grow the section.
Junior Cricket 
It was great to see so many of our Juniors return to training in the summer, as well as lots of new faces. We are sorry that we couldn't provide the usual competitions and festivals to compliment training, we hope these are able to return in 2021. We are planning on entering 2 teams for U9, U11, and U13 and 1 team at U15 in their respective competitions.
We are also looking forward to the return of All-Stars cricket at the club and welcoming new youngsters and parents alike.
The highlight of the year was the annual colts day which was well supported as usual.
Thanks to all the Juniors and Parents for their support.
Teamo
Thanks to all that have signed up to use the new Teamo system. This has not been without issue and new versions of the app are being released to fix various bugs but overall it has been a success and certainly made administration easier.
Please do sign in to the app regularly for updates from the club, app updates and if you have any outstanding fees (there are still a few!!) please pay these as soon as possible.
Cricket Section AGM 
This was cancelled at the end of March 2020 and we have not been able to re-arrange in the current climate however this will take place before the start of the new season either face-to-face or virtually- we will keep you updated when this is arranged.
Thanks again wishing a Safe and Merry Christmas to one and all.