Junior Cricket Season Ends 😢 with a bang at Colts day! 🎆
Sadly the Junior cricket season has finished, but great fun was had at colts day to finish off the season!!
Please see the round up of the season and our annual awards winners below.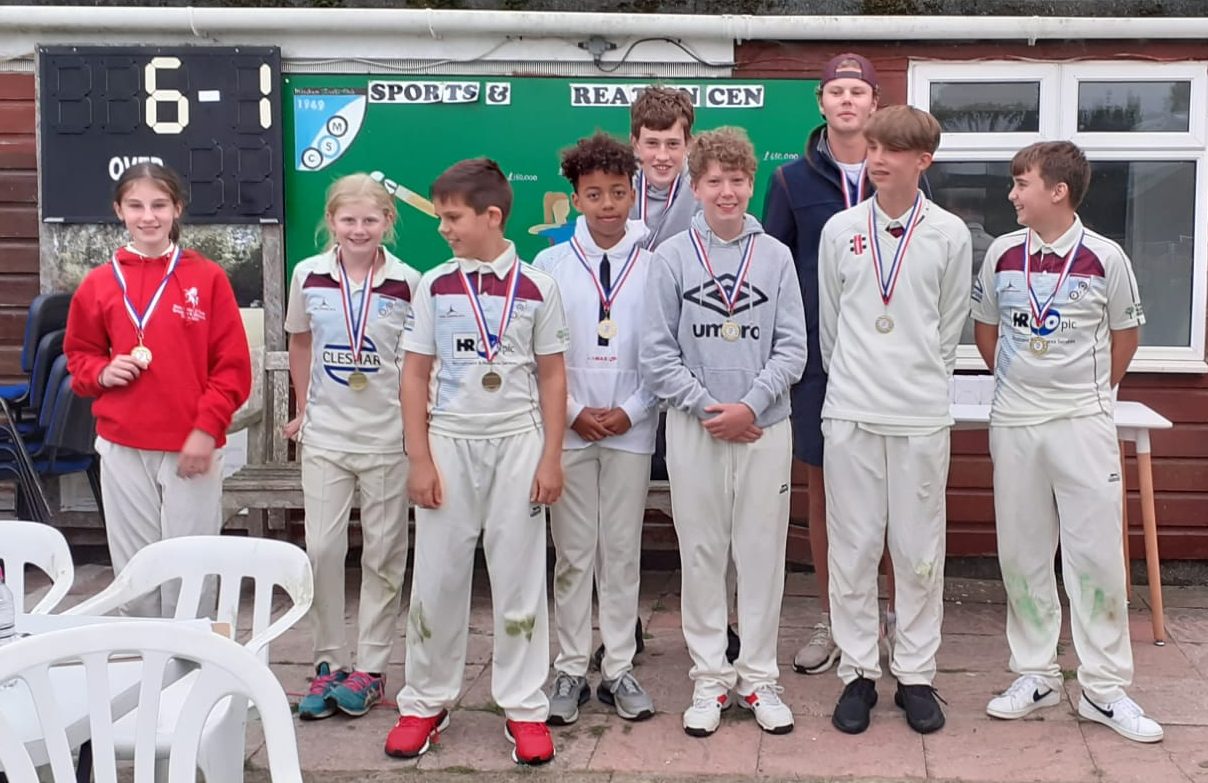 After a restricted, wet summer, the Junior cricket season came to an end in August but was finished with a fantastic day at Colts Day during our annual cricket week.
The club would like to thank all of our players and parents for your participation this year, we really hope you enjoyed your cricket.
We would also like to offer special thanks to our extremely dedicated and hard working team of volunteer coaches, for giving up their time and energy to lead our teams- great effort all.
We are always in need of volunteers to help with junior cricket, from coaches, scorers, umpires, assistants at training, bar staff, grounds people, the list goes on! If you are able to help us in any way please let us know- click here to find out more.
We can support you with courses and training where necessary and help you to help us keep Mersham as a great place for all. 
Colts day
Colts day is always a great day and this year the weather held off so we could complete the competition, great fun was had by all involved.
32 hardball juniors took part in the day competing for the title of colts day champions under the guidance of our volunteer coaches. 4 teams played against one another in 60 ball games similar to the Hundred format. As this is colts day things are never simple and after all the matches 2 teams were tied having won 2 out of 3 games each. The winning team was Jamie's side who won the day by just 6 runs!
Well done to all the players, there was some great cricket played and some fantastic performances, we hope you enjoyed the day.
Following this was the End of Season awards for each team which you can find below.
Under 15 Season- 2nd in League
The under 15 had a slow start to their season with loss at Wye but bounced back from this to win away at Folkestone with 50's from Ben Southern and Shineyu Anand, backed up by a strong bowling performance from everyone, sharing 9 wickets between them.
Unfortunately this was followed by 2 loses to eventual league winners Boughton and Eastwell. But again they bounced back and finished the season with back to back wins against Folkestone and Wye, finishing a very respectable 2nd in the league.
U15 Batting Award- Shineyu Anand, 130 runs, H/S- 50*, Avg- 43
U15 Bowling Award- Parth Tewari, 6 wkts,  best figures 4-14
U15 Coaches Award- Ben Southern, 107 runs, 5 stumpings & 2 run outs
Under 13 season- Farriers 5th place, Anvils 3rd place.
Both Under 13 teams had a good season, the Anvils (B) team, mainly made up of Under 11 players, did fantastically well to finish 3rd in the league winning 4 out of their 7 matches including a fantastic win against the Farriers (A) team in the Mersham derby! The Farriers finished a respectable 5th place in a league winning 2 of the 5 matches they were able to play.
U13 Farriers Batting Award- Charlie Rumley, 89 runs, H/S- 30*, Avg- 22.25
U13 Farriers Bowling Award- Charlie Rumley, 6 wkts,  best figures 2-10
U13 Farriers Coaches Award- Steve Sonu, 47 runs, 4wkts, 1 catch
U13 Anvils Batting Award- James Snowden, 142 runs, H/S- 32*, Avg- 47.33
U13 Bowling Award- Zivan Vermaak, 7 wkts,  best figures 4-14
U13 Coaches Award- James Snowden, 142 runs, 5 wkts, 5 catches
Under 11 Season- Farriers 2nd place, Anvils 6th place
The Under 11 league was split into east and west divisions this season. The Farriers (A) team had a great season in the East Division winning 4 out of 5 matches, only losing out to an exceptional Folkestone team that dominated their league, coming a close 2nd place.
The Anvils (B) team found themselves in a very difficult West Division with both Tenterden and Rye A teams. they did fantastically well considering it was the first time a lot of them had played hard ball matches having missed out on last season and won 2 of their 5 matches, finishing in 6th place out of 7 but just 4 points away from 3rd!
U11 Farriers Batting Award- Zivan Vermaak, 121 runs, H/S- 35*, Avg- 55.5
U11 Farriers Bowling Award- Samath Tewari, 7 wkts,  best figures 4-2
U11 Farriers Coaches Award- Ben Hartles, 30 runs, 4wkts, 1 catch
U11 Anvils Batting Award- Jacob Barton, 33 runs, H/S- 10*, Avg- 11.5
U11 Bowling Award-0liver Asgari, 5 wkts,  best figures 3-34
U11 Coaches Award- Eleanor Jones, 20 runs, 3 wkts, 5 catches
Well done to all our Junior Cricketers this season, you can find all players stats and performances on our PlayCricket Site by clicking here. 
Thanks for a great season, we hope to see you all in January for pre-season training, details will be sent via Teamo.